Morghew Park is an all-year-round shooting Estate. Subject to the seasons and availability, we can offer either formal driven, rough or pigeon shooting on most days of the year.
Morghew Park is one of the Kent's ancient estates and can trace many of its boundaries back to 968 AD, a century before the Norman Conquest, when its sale for 1450 pence was witnessed by Edgar, arguably the first King of all England. It is located near Tenterden and covers 2000 acres of arable and woodland, with a pleasing mixture of wealden upland (small fields, hawthorn hedges and oak standards) descending steeply onto traditional marshland. The land is in a ring-fence, meaning that the Estate is not bisected by any public roads, and several of the drives are up to a mile from the nearest road. Morghew Park is renowned for the warmth and friendliness of its hospitality, its tidy agricultural operation and the beauty of the unspoilt views available from many of its drives.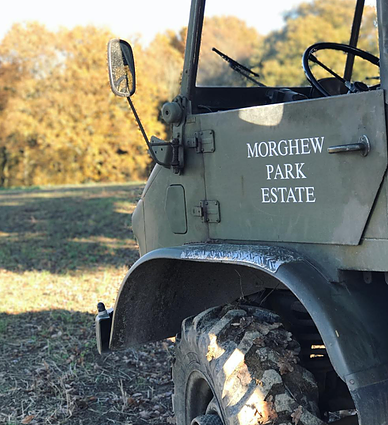 Walked-Up Shooting
For the 2019/20 season, we are again offering accompanied walked-up and rough shooting. Accompanied by one or two members of our gamekeeping staff, guns enjoy a day's walked-up, rough and mini-driven shooting on what is a fully stocked, fed and keepered Estate. Quarry includes unlimited pigeons, crows, squirrels and not more than four pheasants, partridges or ducks off the upland ponds per gun. Days end with a wild duck flight on the Estate's marshland reservoir, where there is no bag limit and guns have a chance to shoot mallard, teal, widgeon and goose.
The daily cost is £180 + VAT during October and £200 + VAT for the remainder of the season.
Check shoot availability online

Driven shooting
On Saturdays from 5th October until the end of the season, we offer formal driven 80-bird days for up to ten guns. The Estate lays on a full team of beaters and pickers-up, and transport is provided in the Estate's Unimog gun bus. The bag is overwhelmingly pheasant, with a few duck and partridge. We will not be shooting woodcock for the forthcoming season.
The Estate shows plenty of high birds and snap shooting, with the result that some drives will challenge the most experienced shots. The cost is £395 plus VAT per gun. Some days are designated for whole teams, while others are described as 'Strangers' Days' on which pegs are sold individually, thus offering solo guns and small groups an opportunity to shoot on Morghew Park. Team days can be extended to 100 birds if required.