Peppered venison SERVED RARE with Shetland Black potatoes, radicchio salad and a shallot, roasted walnut, chive & sweet sherry dressing
Ingredients
Serves 4
800g venison loin
20g rough cracked black pepper
10g Dijon mustard
250g Shetland Black potatoes
50g salted butter
1 head of radicchio
20g walnuts
1 bunch of shallots
20ml olive oil
10ml sweet sherry vinegar
1 tsp caster sugar
20g chives
Sea salt & black pepper
Method
Tightly roll and tie the venison loin. Pan sear evenly on a medium heat.
Brush the venison generously with Dijon mustard then roll in rough cracked black pepper and salt to coat the meat liberally.
Tightly wrap the venison, first in cling film, then tin foil, to form a compact parcel. Roast in the oven at 180°C for 5–7mins. Allow the meat to rest for 20mins.
Boil the Shetland Black potatoes in salted water until soft. Strain and refresh under cold water.
Once the potatoes are cool, cut them into 1cm thick slices and pan fry with butter, salt and pepper for 5–7mins until golden and crispy.
Roast the walnuts at 160°C for 7min and dehusk in a paper towel.
Finely slice (or chiffonade) the head of radicchio and the shallots.
To make the dressing, heat the olive oil in a saucepan on a very low heat. Fry the shallots until opaque. Add a teaspoon of sugar and remove the pan from the heat. Once the dressing has completely cooled, add 10ml of sherry vinegar with finely chopped chives. Whisk gently.
Slice the venison into four even pieces. Pan sear the meat in a very hot pan for 1–2 mins, according to taste.
In a large bowl mix the radicchio with a quarter of the shallot dressing and season.
Slice the venison and arrange on four plates with the warm potatoes.
Dress the plate with the rest of the dressing and garnish with roasted walnuts.
The Chef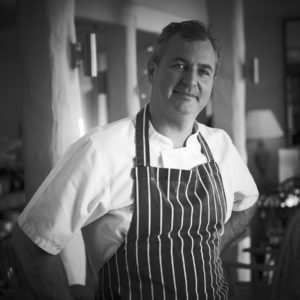 The Milk House,
The Street,
Sissinghurst,
Kent TN17 2JG
01580 720200
fresh@themilkhouse.co.uk