It's that time of year again, Valentine's Day is just around the corner and we've got a delicious dauphinoise recipe for you to try. Whether you're spending the evening with a loved one, a friend or your favourite pet this is the perfect rich and creamy side that can be part of a romantic meal for two or comfort food for one (because you definitely deserve it).
According to written accounts Saint Valentine was a martyr of love – imprisoned and subsequently executed for performing forbidden marriage ceremonies for Roman soldiers. Interestingly though he is also the patron saint of epilepsy. Whilst imprisoned he healed the judge's daughter's eyesight and before his execution wrote her a letter signed off 'Your Valentine'. From here the tradition of sending cards signed off in this way is said to have begun. The concept of Valentine's Day as it is celebrated today dates back to the 14th century when the idea of courting in Western cultures really became popular and the exchange of cards, confectionary and gifts became a common practice.
This recipe uses our varieties that have a red skin and flesh, Red Emmalie and Highland Burgundy Red, to create a lovely reddy-pink rose effect. You could also use some of our other coloured varieties such as Salad Blue or Violetta to add some additional colour to your dish. After all, why give them flowers when you can surprise them with a bouquet of potatoes?
Red Rose Dauphinoise Potatoes
Cooking Time: 55 minutes
Serves 2/3 (6 portions)
500g Red Emmalie or Highland Burgundy Red potatoes
200ml double cream
Knob of butter
Salt to taste
Preheat the oven to 170°C (150°C fan/Gas Mark 5) and grease a muffin tin with the butter.
Slice the potatoes into very thin rounds using a mandoline or knife, taking care to keep your fingers clear of the blade.
Arrange the slices of potato in the muffin tin, starting by lining the outside edge of each case and slightly overlapping the slices. Continue going round in a spiral formation until you reach the middle and have created what looks like a flower made of potato petals.
Pour a little of the cream into the centre of each flower and let it settle before sprinkling with salt to season and place in the oven to cook for 45 minutes until the potatoes are tender and cooked through.
Turn the oven up to 200°C (180°C fan/Gas Mark 8) for 10 minutes to crisp up the tips of the petals.
Serve warm, share with a loved one (or just keep them all to yourself!) and enjoy 🙂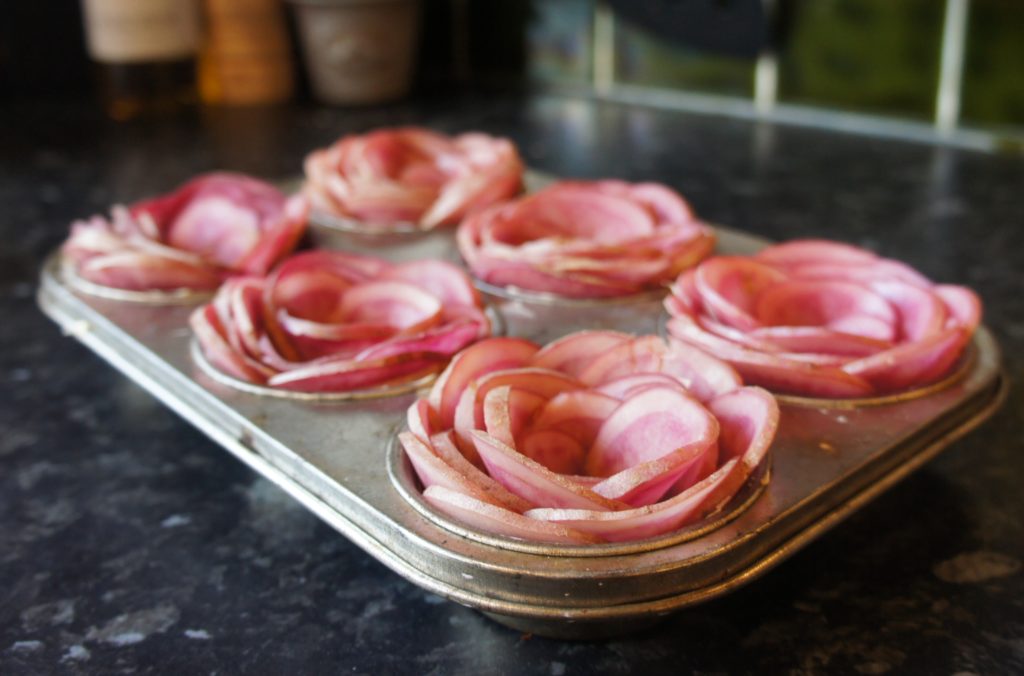 Sam.