Here at The Potato Shop in Tenterden, Kent we grow over 30 varieties of potato so it can be a bit confusing to know which ones will be good for roasting. You need to look for a variety that is high in dry matter which basically means that you need a floury or fluffy fleshed potato for creating a crispy outside shell and a smooth fluffy inside. We have grown many brilliant roasting potatoes this year including Golden Wonder, Yukon Gold, Mayan Gold, Inca Bella, Mayan Twilight, Red Duke of York, King Edward, Red King Edward, Kerrs Pink, Rudolph, Salad Blue, Shetland Black or Highland Burgundy Red. As you can see, there are quite a few to choose from – really you can roast any of our varieties but the ones I've mentioned produce the best results if you are looking for fluffy insides and crispy outsides.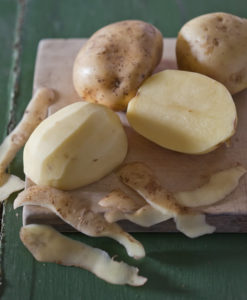 So, what is the best way to roast them? Everyone has their favourite methods but here's mine:
I always peel the potatoes first, I know some people don't but I like the outside to crisp up which it will do much better once it is peeled. Then I try to cut them into even sized chunks – so they cook evenly, no other reason! The potatoes need to be placed in a pan, covered with cold water, salted and then brought to the boil. You will need to keep an eye on them at this stage; some varieties will break down quicker than others. Our Mayan Gold, Mayan Twilight and Inca Bella for example will melt within minutes of being in boiling water, these ones can even be roasted without the parboiling stage. So, boiling can take anything from 2 minutes to 10 depending on the variety you are cooking. If you are cooking with our coloured varieties, Shetland Black, Highland Burgundy Red or Salad Blue, they are better steamed than par boiled; this just helps to retain the vibrancy of their colour.
Whilst the potatoes are boiling, you need to put a roasting tray in the oven (at 200°C), containing the cooking fat of your choice – this can be olive oil, vegetable oil, duck or goose fat, lard or even coconut oil (the jury in this house is undecided on that one, although it is supposed to be healthier!). Once you are happy with the consistency of the boiling potatoes, (they should be starting to go soft around the edges), take them off the boil and drain them using a colander. Let them steam themselves whilst you remove the hot roasting tray from the oven and don't forget to give them a shake before you pour them into the hot fat. (This roughens up the edges, for that all important crispy finish).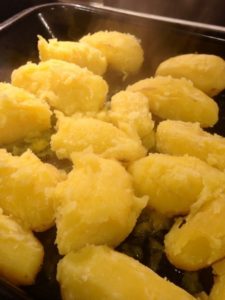 I usually then turn on the hob and let the roasting tray sit on the burner whilst I pour the parboiled potatoes carefully in to the hot fat. They will be sizzling hot and if you are using dry herbs to flavour them, add them at this stage. Rosemary or Thyme work well, a spritz of sea salt adds flavour too. Try to make sure the potatoes are in a single layer in the pan so the edges can crisp up nicely. I baste them a little with the hot fat at this point too. Put them in the oven for about 15 minutes, take them out and turn them, put them in for another 15 minutes. Take them out and turn them again and if you are using fresh herbs they should be added at this stage. Depending on the size of the potatoes they could be ready at this point, it is now down to your personal preference of crispiness. I would leave them in at least another 15 minutes, probably longer as I do love a crunchy spud – but take them out when you are happy with them!
All that's left to do now is serve and enjoy!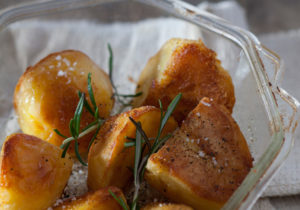 Don't be tempted to try one straight from the hot pan, I have burnt the top of my mouth on many occasions doing this – it really does hurt and stops you from enjoying the rest of your meal!